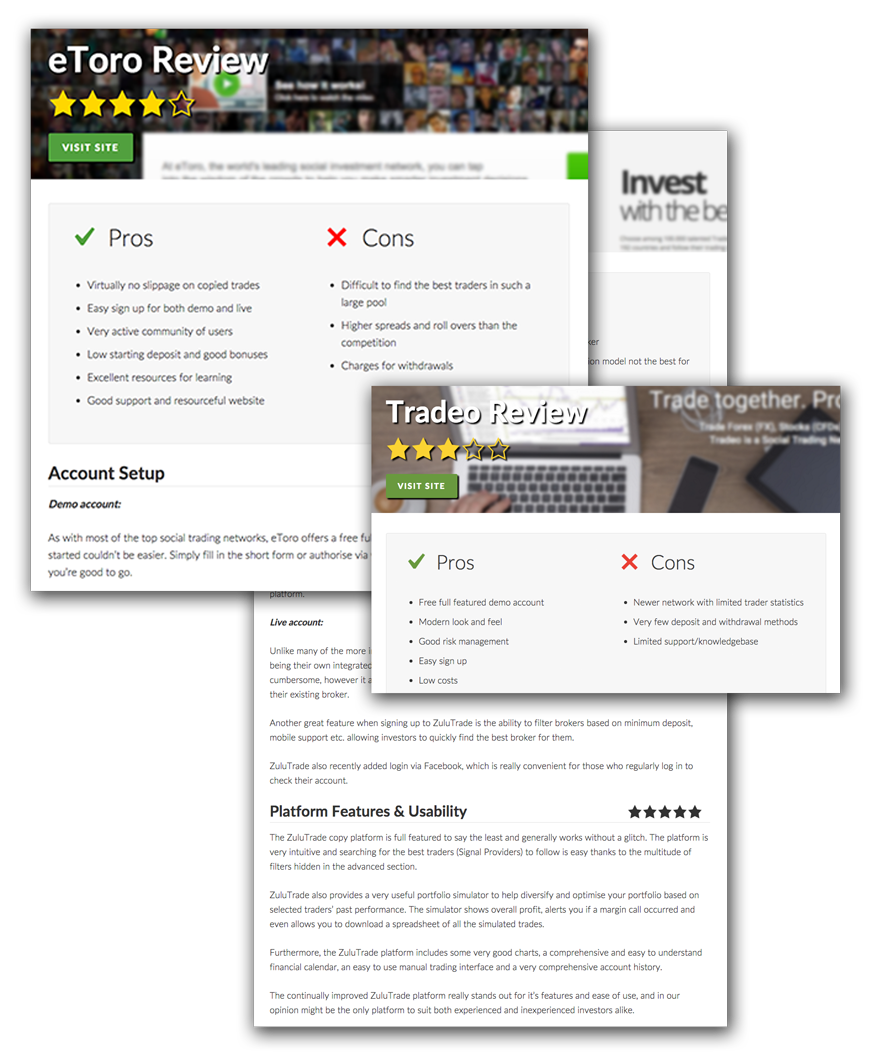 Our social trading network reviews are the focus of this site and we structured them in such a way that they cover all the key aspects of a good social trading network, or platform.     –
Understanding our reviews:
We've been active on social trading sites since ZuluTrade launched in 2007, so we understand the different aspects of using such networks and therefore include things like technical support or funds withdrawals in our reviews, as these are often an afterthought for many new users.
We are constantly working on updating existing reviews and adding new ones so be sure to subscribe to our mailing list to receive these updates and other exclusive content straight to your inbox!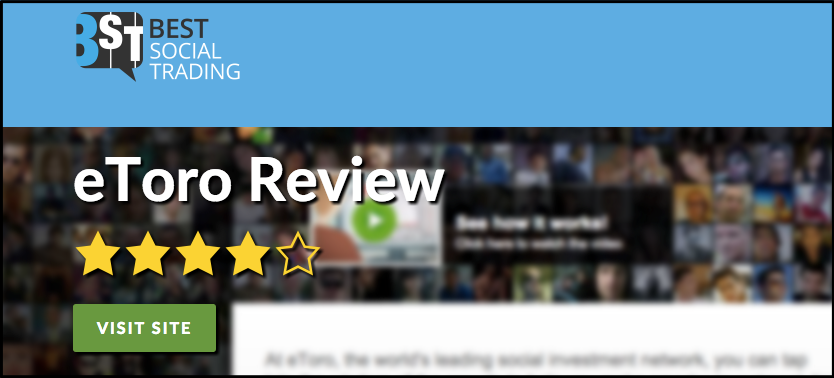 Our reviews are based on 7 categories we felt to be the most important considerations to make when choosing a social trading network.
Reviews start with an overall rating out of 5 and this is the average of the sub categories we review.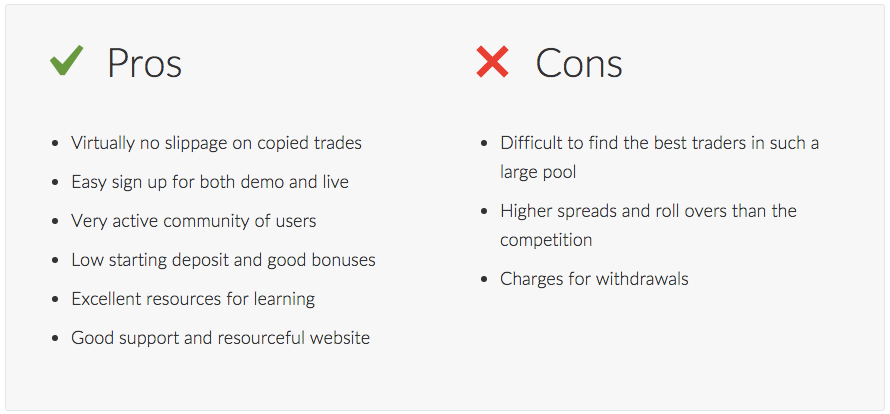 Next we provide a list of the network's most noteworthy pros and cons, followed by the sub-categories.
Sub-categories are kept as concise as possible and is also rated individually out of 5.
They include the following:
Account Setup
Here we look at how easy it is to get your account set up and to be able to start trading. This section is divided into both live accounts and demo accounts as live accounts will require identification documents to be submitted and a deposit to be made.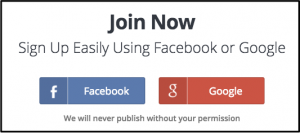 Some of the top sites like eToro will allow users to create a demo account by simply signing in via Facebook or Google, whilst others might require lengthy sign up forms to be completed.
There's nothing quite as tedious as filling out long forms, so this is a crucial aspect of any social trading site.
Another important aspect of opening an account is making your first deposit. Supporting services like PayPal can make depositing funds that much easier and gives far more peace of mind over entering credit card details.
Platform Features & Usability
This category looks at the actual web interface in terms of usability, appearance, features etc.
For instance, until recently ZuluTrade was the standout platform for viewing charts and Tradeo has a very fresh and modern feel to it. We also like how ZuluTrade allows users to toggle between standard and advanced options.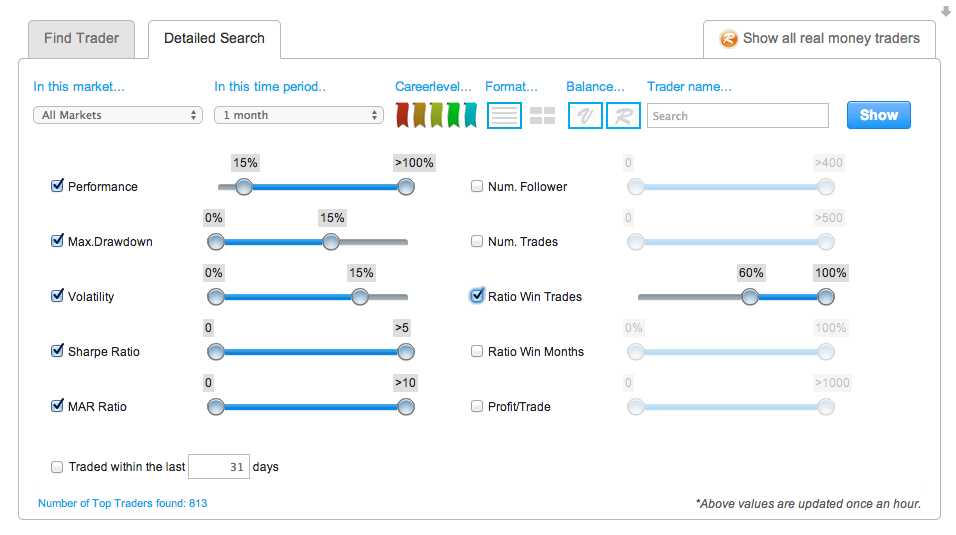 When trading we do not want to think too much about how to do something, but rather focus on what it is we want to do. Smooth, intuitive interfaces is crucial then and needs to be somewhere we want to spend time.
Fees
We all want to take as much of our profit as possible, so here we look at the costs involved with each network and whilst it can be very difficult to review stats such as slippage, it's no doubt better on some networks, like for instance eToro.
There's also spreads, rollovers and other broker fees to take into account, so we're continually looking to update these to give you the best possible data.
Traders & Social Community
Social trading implies community and networks like eToro and Tradeo has really embraced this concept by creating a huge community of traders and investors that share thoughts & strategies.
Other networks like ZuluTrade however have very little of this interaction and is largely focused on the aspect of following another trader's behaviour.
Neither one or the other is better and will greatly depend on what exactly it is you're looking for in a social trading network.
This category also looks at the number of traders you are able to copy or follow.
Bigger networks like ZuluTrade or eToro have many thousands of active traders, whilst SignalTrader only provides 12 traders to copy, but have a much stricter vetting process. Again, an important consideration when starting out with social trading.
Risk Management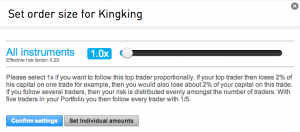 Managing and protecting your money is key in any market. Some networks like ZuluTrade provide very detailed adjustment of lot sizes, stop losses etc., whilst Ayondo and SignalTrader kept things way simpler. Simple settings can be key to anyone starting out, yet someone with more experience might want to be able to adjust these parameters based on specific traders or circumstance. Overall a very important aspect of any trading platform.
Support
It's very rare for anything to go wrong with today's high speed internet connections and advanced web browsers, but it's nice to know that you can get a speedy response should the unexpected happen.
In this category we rate the response times for a support ticket, the availability of different types of support and other resources such learning materials and help guides.

Funds Withdrawal
Finally we rate how easy it is to withdraw your trading profits. The more supported services the better and we're also looking at any hidden fees when doing so.
---
If you have any suggestions for improving our reviews, please feel free to contact us via our contact page or simply message us on Facebook or Twitter.