Pros
Very consistent and relatively low risk trader
Simple platform
Choice of broker
Good support
Cons
High minimum deposit. $2000
No real mobile support
Some might want more risk management
No social integration
Account Setup
Demo account:
Signal Trader offers a fully functional demo account, although limited to 31 days. The signup is straight forward and investors can copying on their demo account immediately. Once the demo account expires, the user account is left in tact and can simply be linked to a broker in order to start trading with a live account.
Live account:
Signal Trader unfortunately doesn't offer an integrated broker solution, so users will need to create an account with one of the 10 supported brokers.
Signal Trader's minimum initial deposit is a very above average $2000, which might be off-putting to newcomers wanting to try this social trading network.
Platform Features & Usability
The web interface offered by Signal Trader is without the fancy bells and whistles seen on many other social trading networks and this means it's easy to navigate and use, but unfortunately doesn't work very well on mobile devices. Signal Trader also lacks a dedicated mobile app, so this aspect of the platform is definitely in need of some improvement.
With only 12 traders to choose from, Signal Trader certainly doesn't require all the filters for sorting and selecting traders like other social trading networks do and everything you could possibly want to know about a trading system is made available, including all historical trades, balances etc.
Overall, apart from the lack of a better mobile experience, the platform is very pleasing to use and should be adequate for most users.
Signal Trader is free and makes their money from the introducing broker fee received from the supported brokers. Investors only incur spread costs and whilst this can vary slightly between brokers, the majority of the supported brokers have very competitive spreads.
Traders & Social Community
Signal Traders really only offers trade copying or basic email trade signals. There is no social integration at all and no interaction with traders or fellow investors on the network.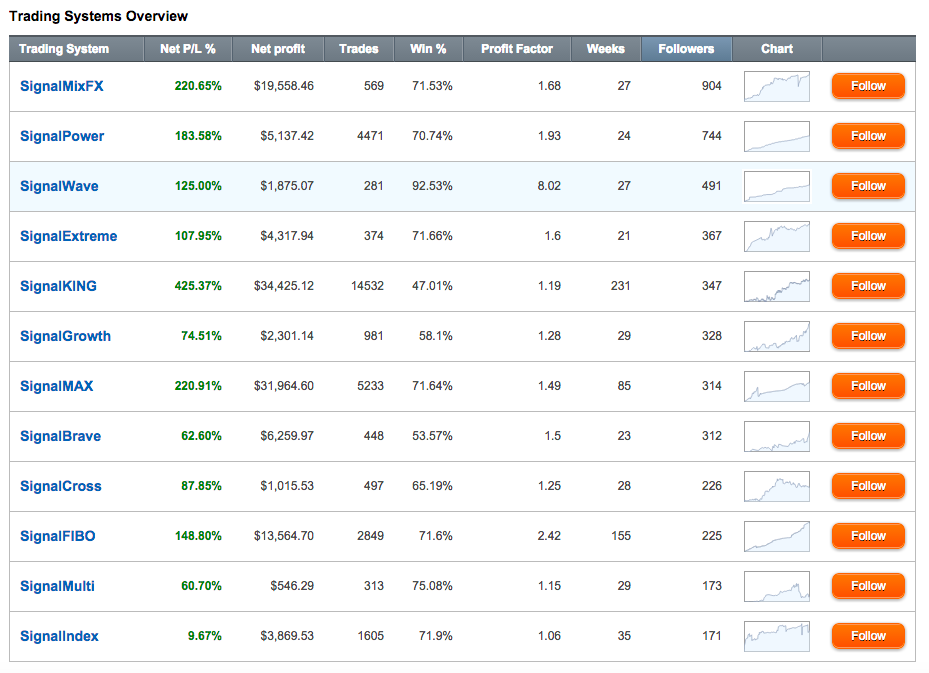 Currently Signal Trader offers 12 trading systems, or professional traders, to choose from and copy. Where Signal Trader really stands out however is the quality of these traders.
A quick look over the 12 traders' historical performance shows much more consistent results and low drawdowns in comparison to the usual sea of traders on other social trading networks.
These traders must comply to some strict rules including returns of more than 3% and drawdowns of less than 15%. Over the lifetime of our account with Signal Trader, we've seen very little change in the available traders and our returns have exceeded all of our other social trading accounts over the lifetime of the account.
 Signal Trader again kept things simple here and only allows for setting lot sizes. Trades can also not be closed manually and need to be done via the broker interface.
Whilst some might see this as a big negative, we found this to be perfectly adequate when dealing with the level of traders on Signal Trader. It's also worth noting that all traders on Signal Trader must trade using real money accounts, so the chance of a trader getting reckless is unlikely.
Support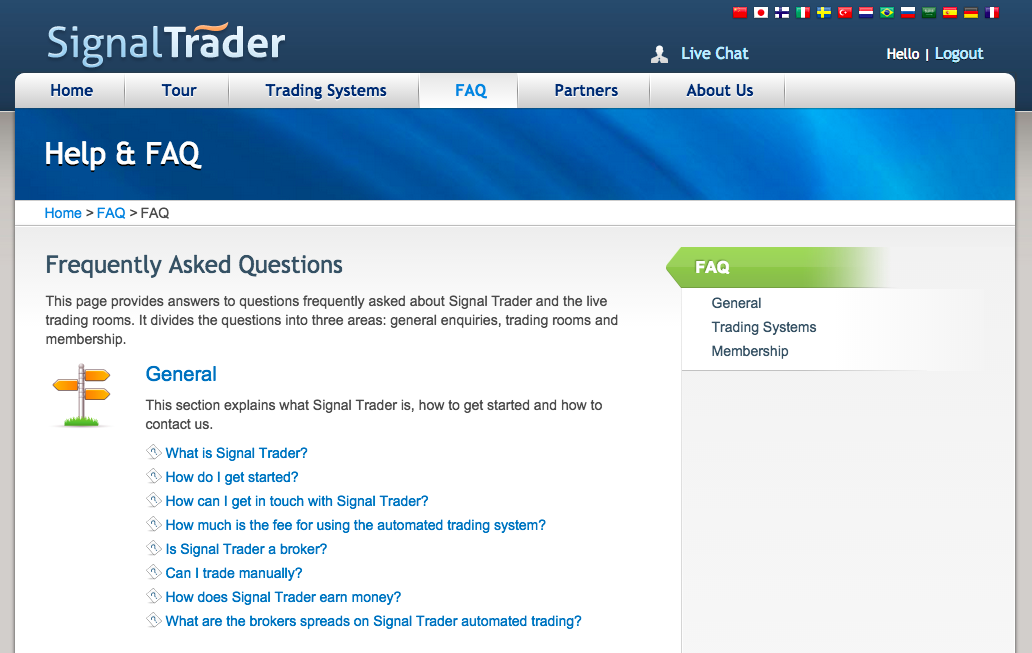 Signal Trader offers both email and live chat support with fantastically fast response times to email queries and the site is available in 14 languages.
Support documentation and FAQs is short, but concise and answers everything a new investor might want to know about the network.
Withdrawals is specific to the individual brokers used to trade on the Signal Trader network.