Pros
Good transparency
Legitimate license
No minimum deposit
Cons
Slightly slower customer support
Low leverage
large spreads
ALB.com has just recently surfaced on our radar of Forex brokers that we always try to review as many as possible. However, we were a bit misled about ALB. We thought that the company was a Forex broker, but it's, in fact, a CFD brokerage that has options on Forex, cryptocurrencies, company shares and etc. But regardless, this ALB review was quite thematic as we think that other people may be misled just like us.

Therefore we will be reviewing this brokerage to find out if they truly are a worthy company to register and trader with. Consider the fact that ALB only caters to the EU population, so if you're not within the range of their jurisdiction, you may as well sit this one out.
For all of those living in the EU, this review could help you make a great choice. We will derive our ALB ratings though existing opinions on the web, our personal take on the broker's license and trading conditions, as well as the reputation that this relatively new company has garnered so far.
So, without further ado, let's begin.
Trading Conditions  – Can ALB be trusted?
Before we dive into the cesspit that is legal documentation for the brokerage, we first need to take a look at what they have to offer in terms of trading conditions.
This is a new method that we've developed which helps us look at the company on a much more objective perspective. Why? Because the moment we see that they don't have a license, influences our overall decision in the process, thus we tend to be very subjective throughout the whole review.
Therefore, this ALB review will be sort of a test for our new method, and hopefully, it will help us add a bit more value for you, the reader.
Anyway, let's look at what the maximum leverage, minimum spread, minimum deposit, withdrawal conditions, and software options are with this brokerage.
Maximum Leverage
It pains us to say this, but the fact that ALB reviews keep calling the company a CFD broker we need to give them a pass on the 1:30 leverage on Forex pairs. Sure the broker may only deal in CFDs, but why even bother to target those assets, especially FX pairs in a heavily regulated market like the European Union?
The broker does offer 1:100 maximum leverage for Pro account holders which requires a large deposit, but even the 1:100 leverage doesn't make it worth it.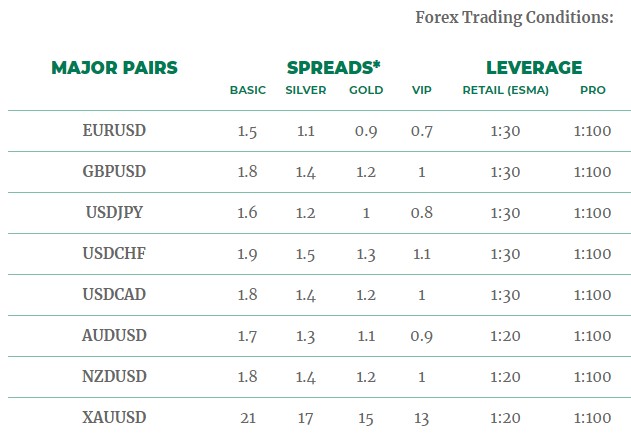 If you're a veteran trader you should be more than aware that going for a CFD broker when you want to trade FX is a bad choice. The only things CFDs are good for is when you don't have enough funds to open an account with a stockbroker, or if you don't want to bother with storing your commodities. With FX, Forex brokers have much better options compared to CFD brokers.
Minimum Spread
One would expect that due to such a restriction on leverage, the spreads would be almost non-existent, right? Well, that's not necessarily the case. You see, the ALB opinions you may find are purely from a cryptocurrency or stock standpoint. The moment we take a look at the broker from an FX standpoint, we immediately see flaws upon flaws upon flaws.
The minimum spread range you will get on EUR/USD, one of the most popular traded FX pairs and the one which should have the lowest option, we are greeted with 0.7 pips. This is just not acceptable. Paired up with a 1:30 leverage and 0.7 pips (on a Pro account for that matter) simply does not spell a profitable option.
Furthermore, if you go with a basic account that does not require a deposit, you get 1.5 pips on EUR/USD which is simply outrageous. Consider the fees on deadlines and opening trades on FX CFDs as well. By the time you've closed your trade, you'll have lost at least 20% to fees and payments. Not profitable at all.
Software options
When it comes to software options, we need to be a bit forgiving. Being a CFD broker, ALB.com is forced to have a relatively limited selection of programs. In this case, people will be greeted with ALB MT4 and ALB MT5, and we can't be mad at that. But, having a WebTrader would still be very welcome as the old-fashioned design of MetaTrader tends to tick people off completely.
Safe Withdrawals
In terms of withdrawals, there's not much to say other than that they're Ok-ish. There are no fees attached to the withdrawals which is a big plus, but when it comes to your options of applying for withdrawal. That's when you're likely to encounter some issues. You see, the options for withdrawals need to be as diverse as possible, as it may be an emergency or you simply don't want to pay an additional fee.

With ALB withdrawal policy, traders can only use options such as Bank Transfer and Credit/Debit card withdrawals. This means that you will have to wait at least 5 business days before your account is credited with the amount. If you're not in a hurry, then this is a perfect way to withdraw. But if you are, then it may cause some problems.
The redeeming quality for the lack of diversity though is the segregation of account funds. This means that the bank that ALB has partnered with, opens a separate account for an individual customer. Therefore, if something were to happen with the broker, your accounts would remain safe as the bank would not allow access without your consent.
Is ALB scam real after all these conditions?
After discussing the trading conditions for so long, it may already seem that the broker is not worth it for both beginner and veteran traders. It's not fully disclosed whether the Pro account comes with some kind of deposit, but what we do know is that the basic account can be created for pretty much free.
This is definitely not a tactic from a scam brokerage, as they don't really restrict too much good stuff for the Basic account holders.
That much is confirmed through the fact that ALB.com is licensed and regulated by the Malta Financial Services Authority. This regulator is one of the most popular ones in the European Union, so we can't really say that ALB scam is real or anything.
The fact that they have a license is assurance enough here. Consider the fact that they're also constantly being checked by the European Securities and Markets Authority as well. They'd have to be really clever to be a scam and stay in business for so long.
Overall, we'd say that ALB is legit, but that doesn't necessarily make it a worthwhile investment to trade with them.
ALB review – Final thoughts
Finally, it's time to give the broker a conclusive verdict. Is it a bad choice, or a good one?
We're leaning more on the bad side with this one as they haven't necessarily displayed the best trading conditions for those wanting to trade Forex for a living, nor for those who see it as a hobby. Even in terms of being a CFD brokerage, multiple ALB reviews say that the company is just not worth it.
The wide spreads alongside the restricted leverage are going to make it very difficult to make some profit with this company. All in all, we'd say that staying away from them, for now, is a good choice as there are so many better options out there in the form of EU-regulated Forex brokers and not CFD brokers.