Pros
Low spreads
Available demo account
Accessible on any device
Cons
Lack of actual regulation
Low leverage
ATFX is a relatively new brokerage operating from the St.Vincent and the Grenadines. It claims to have won several awards from multiple organizations and covers the large majority of the Forex market. The broker also claims to have a leverage of 1:20 on CFD accounts and 1:100 on Forex accounts.
The ATFX review also showed that the broker displays a floating spread from 0.1 pips on EUR/USD and a 4.0 pip on exotic Forex pairs. Other than that, the brokerage is fairly "standard" meaning that it features the common MT4 platform and various other terms and conditions on withdrawals and deposits.
In this review, we will not only focus on the legitimacy of the brokerage but also try to determine if they would be a good choice for a beginner or veteran traders. Things such as the calculation of profitability with the broker will be undertaken as well as the comparison of their conditions with their competitors.
ATFX review – first impressions
We usually conclude our first impressions through the design patterns of the website. In ATFX's case, it's easy to say that most of the important checkmarks have been squared away. The website seems like it has received at least some kind of attention from the company and the level of transparency is admirable.
Finding information on whether or not ATFX scam could be a possibility is also not very hard as terms and conditions are laid bare for everybody to see. But, to some degree, they may be laid out too bare to see as the biggest concern we were able to find was the main legitimizing document of the brokerage. The license.
Is ATFX legit? Is the license legitimate?
Unfortunately for those who were expecting a positive review, we need to make it very clear that ATFX doesn't really supply a trustworthy license to work with. You see, the St.Vincent and the Grenadines government has stated multiple times that it has nothing to do with regulating these companies.
Forex brokers are allowed to register in the country, but they are not officially recognized as a regulated entity. This means that not only does ATFX not posess a legitimate license, but it doesn't have a license at all.
Regardless of how subjective one's opinions may be about the company, it's easy to say that the ATFX fraud alarm just went off for us. No matter how well-mannered or experienced a broker may be, it needs to understand that a license is the sole legitimizer of its operations. Not investing anything into getting at least a world-recognized document is already a serious hit towards their liquidity issue.
What does the liquidity issue mean? Well, it's basically like the broker not having enough funds to support the leverage they promise, or one day going bankrupt with your funds still on the account.
Considering that the broker is not regulated by any entity, it's easy to believe that the customer accounts are not segregated from their main bank account. This means that should anything happen to the company, customer funds, alongside the company funds will vanish completely.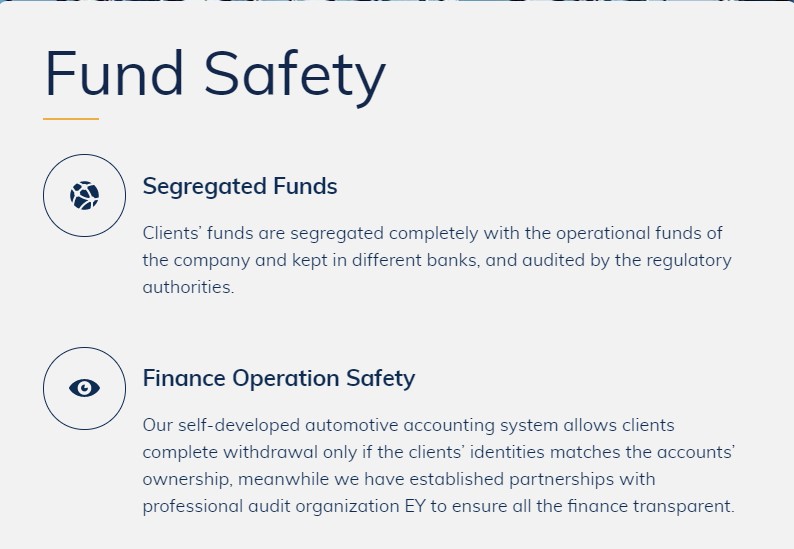 Fortunately, though, the accounts are indeed segregated according to the official website.
License is just one of the reasons why we are lowering the ATFX rating, however, as there are multiple other reasons to it as well.
But, let's try and give the broker the benefit of the doubt and review it as a licensed company. Would it still be untrustworthy? Let's find out.
ATFX reviews say the broker is competitive
If you try to find various ATFX reviews online you'll immediately be bombarded with opinions that the broker is quite competitive with the rest of the market.
But how is the competitiveness calculated? Through the combination of spreads, leverage, withdrawals and etc. All of this we've pretty much mentioned at the beginning of the review, but it needs to be fleshed out to a point where we can get a general picture.
Therefore, in this segment of the review, we will look at each of the features individually to determine whether or not they can remain competitive with market standards.
Leverage
The leverage with ATFX is 1:20 for CFD products and 1:100 for FX products. If you have at least a little bit of experience in the market, it should be immediately obvious that this is a very lackluster feature to have on a broker that has ambitions of operating globally.
Why? Because even the heaviest regulated markets feature 1:30 leverage on CFD products, and the market standard leverage for FX pairs is 1:300 at least.
There are dozens of more trustworthy brokers out there that sometimes feature up to 1:1000 leverage.
This case is definitely not in ATFX's favor.
Spreads
The next feature in our ATFX opinion is the spreads. This is the difference between the bid and asks the prices of a specific currency pair. The bigger it is, the fewer profits you can make as a trader. In ATFX's case, there's not much to complain about. The spread on EUR/USD pair is a floating one starting from 0.1 pips as is the industry standard, and exotic pairs where the profit range is much larger it's around 4.0 pips.
However, considering that it's a floating spread, it's much more likely to have a 0.7 pips average spread which is not too good nor too bad.
Withdrawals
Fortunately for both the broker and the trader, withdrawals are free of charge and come in various "shapes and sizes". By shapes and sizes, we mean that quite a lot of options are available for the trader, starting from Wire Transfer, ending with digital wallets such as Skrill and Neteller.

In terms of ATFX withdrawals, the broker manages to pass with relatively good ratings. But, it doesn't help that their license weighs them down.
Can ATFX be trusted? Should you trade with them?
ATFX seems to be a below-average brokerage when compared to market standards. They fail to deliver satisfying features for the customers they seem to be attracting so vigorously.
The only advantage that can be found with them is the relatively low minimum deposit of $100 and no withdrawal or deposit fees.
Other than that, the broker doesn't have a legitimate license, nor does it have a competitive leverage rate, thus classifying it not only as an ATFX scam but also as a low profitability brokerage.
We do not recommend you open an account with this company.