Pros
Good user-friendly website
Decent leverage
Beneficial withdrawal/deposit features
Very low minimum deposit requirements
Cons
No license
Commissions
Lack of diversity for withdrawals
First Impressions
The first impression that we got from our EagleFX review was quite nice actually. The website was developed with at least some effort put into it and the overall transparency that was being showcased was nothing but commendable from the broker's side. However, the first impressions were immediately cut short when we couldn't find definitive information about the company's regulatory license.
The only guiding source of information we could have used was the little quite at the footer of the website that mentioned that EagleFX was located and registered in the Commonwealth of Dominica.

Every experienced trader would most likely cringe at the sight of these words as they know that the Commonwealth of Dominica does not regulate Forex brokers on its territory, but allows them to register at least.
It's uncommon to make a conclusion in the intro of a review, but the location simply gives away the EagleFX scam straight off the bat, without even having to look at their trading conditions.
But, being the reviewers that we are, we absolutely have to take a look and rate them based on those features as well.
Legality and Documentation
Besides the legal aspects of the brokerage in terms of the license and registration number, the EagleFX scam is easy to be seen once one finds out that they cater to US citizens which is a very serious violation of US regulations.
If a Forex brokerage wants to somehow tap into the US markets they need to posess a license from the local CFTC, which is nearly impossible to do. It's connected with the broker's available capital, trading conditions, payments on the license and etc. Even large brokerages simply can't fathom the costs of operating in the US and therefore try to avoid it completely. Having a brokerage which was created in 2019 caters to the US population is a definite red flag as they're undoubtedly doing it through illegal matters.
But what else can be said about the brokerage? Are they the type of scam that entices traders no matter the issues with their legality? Or are they simply a low calibre company even by scammer standards? Let's find out.
Trading conditions
Once we steered our EagleFX review towards the trading conditions of the brokerage we were actually surprised that they can offer decent conditions for both beginner and veteran traders.
One of the biggest benefits we were able to find was the minimum deposit which is just $10. To say the truth, once we saw that the deposit is so low, we actually started to question whether or not our final conclusion had any merit, but nothing can beat the actuality of the absence of a license, so we immediately got back to rating it based on our initial assumptions.
But the minimum deposit isn't the only thing that surprised us. Let's look at other conditions.
Leverage
The leverage with EagleFX is quite high. The maximum that traders can get is 1:500, while the smallest "maximum" is 1:100. The brokerage offers trades on Forex pairs, cryptocurrencies, stocks and various other assets, but it seems that they have a much better affiliation with Bitcoin simply judging by their withdrawal and deposit methods, but those we will touch a bit later in the review.
Spreads and Commission
This is where the broker fails to maintain the initial value it showcased to us when we began looking at the trading conditions. EagleFX does not disclose the information on its spread range, it just says that spreads are floating, therefore, they can change. The live spread dashboard which is featured on the homepage is also a work in progress, therefore there was no way to find out the exact amount.
What we did find out though, was that trading with EaglFX is commission-based alongside the spreads. Needless to say, this is a relatively un-user-friendly practice as it drains all the potential for profits.
But there was yet another clue that we came upon when looking at EagleFX withdrawals and deposits.
Withdrawals & Deposits
As already mentioned the minimum deposit with EagleFX is $10, and similarly with the withdrawals. The only drawback is that there's not too much diversity for the withdrawals. With the deposits, traders can make a choice between Credit/Debit cards, Wire transfer or Bitcoin, while withdrawals are only processed via Bitcoins.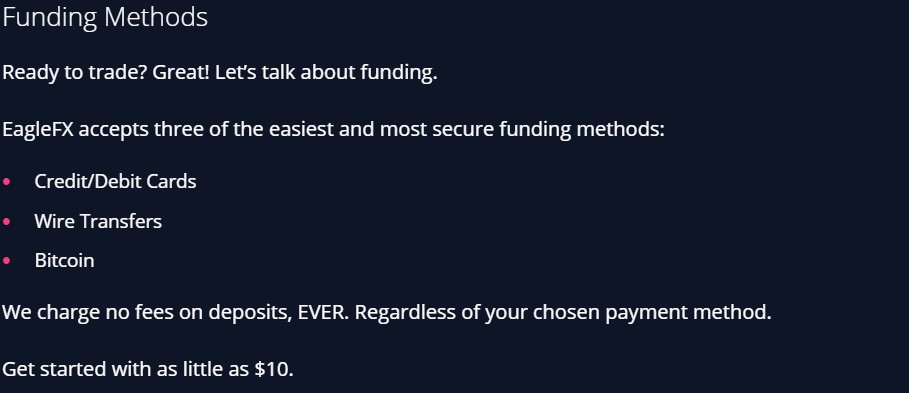 That's the reason why we think EagleFX scam is real, simply because they force traders down a path for taking their profits with Bitcoin, which is simply unacceptable. If there was a way to withdraw with a traditional payment method, then this argument would simply not exist, but here we are.
Trading platforms
There are two ways that customers can trade, the EagleFX MT4 and Webtrader platforms. This is also kind of a bonus for the company as diversity is always welcome. But judging by the fact that most scammers manipulate their Webtraders to get as much out of their traders as possible, it's likely that EagleFX does the same.
EagleFX final rating
Although EagleFX may seem like a decent brokerage on the surface, with good trading conditions and user-friendly platforms, it needs to be considered that they classify as the "enticing" scammer type of brokerage that brings in customers based on irresistible conditions.
But thanks to their lack of license and the attempt to cater to US citizens, we can clearly tell that EagleFX scam is a major threat to anyone that registers with them.
We do not recommend trading with EagleFX to anybody regardless of their experience in the FX market.